Kyle Dennis wants to to show you some Fast Five Trades catalyst plays to keep an eye on in the coming weeks. If you know him, you know how Kyle loves to trade biotechs — and since these stocks are coming back into favor – I think they'll provide opportunities to play the catalyst runup.
---
— RECOMMENDED —
How To Find Extremely Profitable Trades
Every Monday, Kyle Dennis releases his highest-conviction trade idea for the week.
Learn how to receive Kyle's next Fast 5 Trade Here
---
3 Catalyst Runup Plays To Keep On The Radar
December is filled with catalyst events for biotech and pharmaceutical stocks. If you want to check out what companies are set to report data points, BioPharmCatalyst offers an extensive FDA calendar.
Since I know you want to get back to the festivities, I'm going to keep this brief.
Kiniksa Pharmaceuticals (KNSA) has a catalyst date in 4Q 2020, and since it hasn't happened yet… it may come some time in December.
The company is expected to report data from randomized, double-blind, placebo-controlled investigator-initiated study in the U.S. for its COVID-19 treatment. By the looks of it, it may present this data at the Evercore ISI 3rd Annual HealthCONx on Tuesday.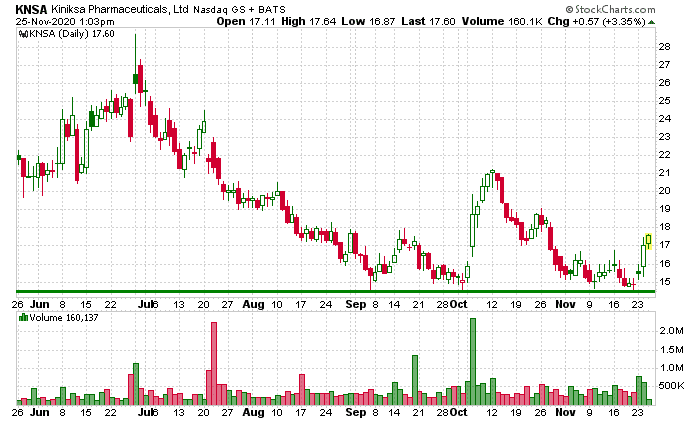 The stock is already running higher, and it may continue its run into the event.
Odonate (ODT) has a catalyst date on Dec. 11.
The company met its Phase 3 trial primary endpoint back in August. Now, the company is expected to present data at SABCS, which will be held virtually. This data will be for its metastatic breast cancer treatment.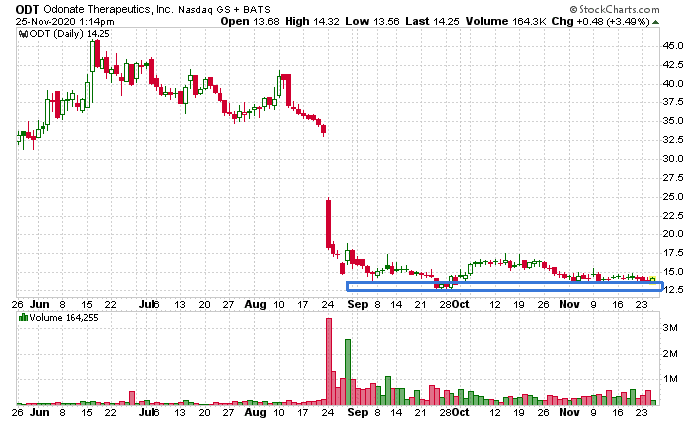 Last, but not least Myovant Sciences (MYOV) has a PDUFA date under priority review on Dec. 20.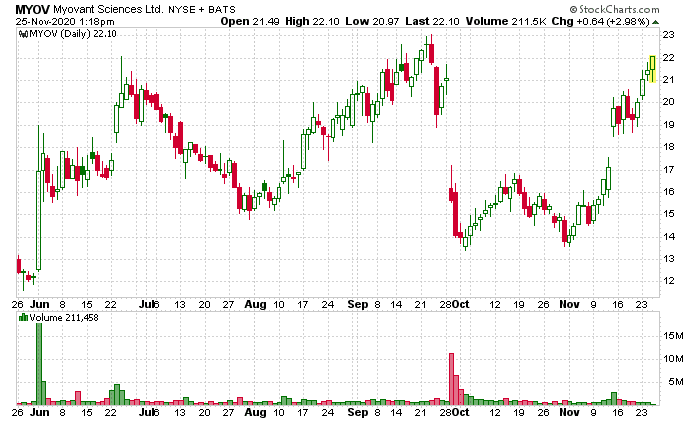 With the stock running higher already, this is one to keep on the radar for a breakout.
Listen, anyone can provide you with trade ideas, it's up to you to develop your own trade plan and have the right strategy in place.
Let me show you one of my best strategies… the same one that helped me get my trading career off the ground.